The Pines is the escape location for 12 month a year holidays. Don't be put off by winter weather. The bay has as much to offer of clear winter sunshine, hunting and fishing opportunities, even sea kayaking in the off-season, as during mid-summer. And this is the place that makes it worthwhile.

Beech House offers our guests a number of facilities that are not always available in the remoteness of the sounds. The water only access will ensure you can be cut off from the trials and tribulations of day 2 day living, but you don't have to endure holidaying in a bush camp or compromise on some of the basic comforts of home.

Power

Although it is off the national grid, the house is provided with essential power by reliable diesel generator. This is mainly just lighting in the evening and in the summer is barely a requirement. We plan to introduce Solar Powered lighting as an alternative for greater convenience.

The fridge with freezer box is fuelled by LPG and means your food supplies can be kept fresh for the length of your holiday. The generator is not required to keep this facility fully functional. The house has a fully equipped kitchen with 4 burner gas stove, grill and full sized oven. On demand gas heated hot water services the kitchen and bathroom including high- pressure spacious shower.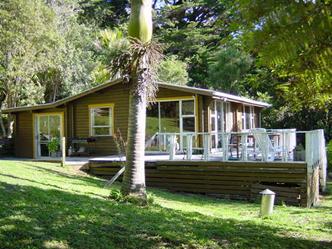 Newly built decking on 3 sides of the house provides a fitting location for the Gas BBQ, and ample outdoor furniture makes summer outdoor living a pleasure. A large outdoor umbrella is provided for shelter on the deck when the sun is at its strongest. Natural timber garden table and bench seats on the lawn are situated for added variety and late afternoon sun. Unfortunately open fires and coal BBQ's are prohibited due to fire risks. In winter the log burning fire ensures a cosy atmosphere to finish off your days' adventures, and will keep the house a comfortable temperature 24/7. Dry firewood is provided in abundance for just this reason.

Extra

You can bring your own sleeping bags/duvets etc, or Linen can be provided at a small cost. Laundry can be accommodated if required. We prefer that you leave pets at home, though hunting dogs are happily catered for outside. A telephone is available at the house for urgent matters of communication. Cell phone coverage is intermittent, but normally operational at the end of the jetty and on most main watercourses in the Pelorus Sound.